Video by Automotive Territory: Trending News & Car Reviews via YouTube
Go to Source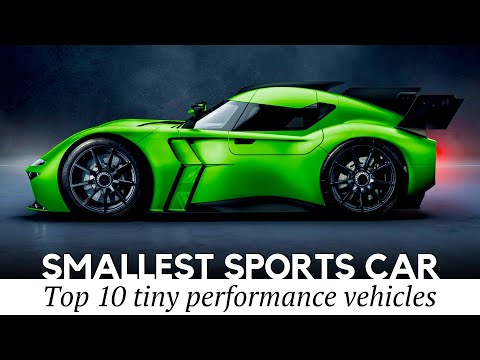 The most visceral driving emotions will be experienced behind the wheel of a powerful, but most importantly, super compact and lightweight sports car. Today's lineup is comprised specifically of such racers that will be making debuts in 2023 and beyond. We will be covering the newest models with their technical characteristics, weights, descriptions of clever design solutions and surely prices!
Other #AutomotiveTerritory videos you might like:
Latest supercar models revealed this year: https://www.youtube.com/watch?v=pUUxN554zFA
Super SUVs that combine great performance with comfortable interiors: https://www.youtube.com/watch?v=hkZWNecDzKA
List of all models from this #AT_New_Cars release:
00:00 Introduction
00:34 Donkervoort F22
donkervoort.com/en/models/f22
2023 Donkervoort F22 keeps the main advantages of the D8 GTO Individual series, while becoming more practical, larger and comfier.
01:43 KTM X-Bow GT-XR
ktm.com/en-be/models/x-bow/x-bow-gt-xr-2023.html
The owners of the latest iteration of the Cross-Bow will finally be able to show off their racer beyond the track since it becomes completely street legal. Based on the Cross-Bow GT2 track car, the model has a carbon fiber monocoque.
02:39 Caterham Seven 420 CUP
caterhamcars.com/en/latest/introducing-the-new-seven-420-cup
Caterham SEVEN 420 CUP sits atop of the Seven range and offers plenty of track/race equipment while remaining road-legal.
03:37 Ariel Hipercar
arielmotor.co.uk/hipercar-is-go/
Revealed in a production-intent form, the 2024 Ariel Hipercar should start production within a year, keeping its crazy carbon-fiber bodywork, quad-motor AWD, and an optional CatGen turbine range extender.
04:42 Alpine A110 R
media.alpinecars.com/all-new-a110-r-r-for-radical/?lang=eng
The new version of Alpine makes an effort of further reducing the weight and conjuring a new exhaust sound. The 2023 Alpine A110 R also gets a unique bonnet, 10 millimeters lower ride height and an adjustable suspension.
05:46 Audi TT RS Iconic Edition
audi-mediacenter.com/en/press-releases/timeless-icon-exclusive-audi-tt-rs-coupe-iconic-edition-celebrates-innovative-design-and-dynamics-14945
Probably the last update for the Audi TT RS before it goes electric, commemorates its 25th year on the market. The 100-unit 2023 TT RS Iconic Edition gets a wind-tunnel developed aerokit.
06:57 Totem GT Electric and GT Super
totemautomobili.com/exterior
Alfa Romeo Julia GT is a family of Italian rear-wheel drive sportscars from 1970s that were designed by the legendary Giorgetto Giorgaro. Despite keeping resemblance to this icon, the Totem GT Electric or GT Super keep only 10 percent of the original lightweight Alleggerita chassis.
08:14 McMurtry Spearling
mcmurtry.com
"The world's greatest small hypercars for the road and track", this is the creed that the British MacMurtry are trying to live up to and their Spearling racer is the first element of the future gameplan. Their Batmobile lookalike weighs just 2,200 pounds, has a single seat with a very narrow cockpit.
09:15 Morgan Plus Four and Plus Six
media.morgan-motor.com/morgan-reimagines-plus-four-and-plus-six-establishing-new-plus-product-pillar/
2023 Morgan Plus Four and Plus Six are arriving with a host of visual and function upgrades, becoming for confident, responsive and comfier on the road.
10:18 Lotus Emira
media.lotuscars.com/en/models/emira.html
2022 Lotus Emira arrives to the market with Evora's bonded aluminum chassis, Evija's exterior design and 2 engine options: a Toyota-borrowed 3.5-liter supercharged V6 or an AMG-developed 2-liter turbo I4.
11:29 Bandit 9 Monaco
bandit9.com/Monaco
Bandit Nine Motors have made a name for themselves as a manufacturer of custom bikes, therefore their first car Monaco was created in the spirit of a sleek two wheeler with a carbon fiber monocoque and an electric heart.
12:29 GMA T.33
gordonmurrayautomotive.com/cars/t33
Gordon Murray is lip tight about retirement plans, so at least for now, the T.33 is hailed as his most accomplished masterpiece. This two-seater was influenced by the cleanly styled and gorgeously proportioned '60s sports cars.