Video by Ludicrous Feed via YouTube
Source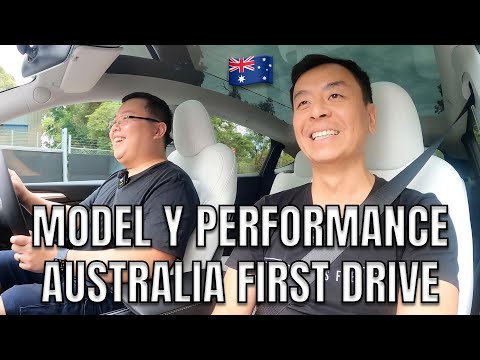 Walkaround and first drive of 2023 Tesla Model Y Performance in Sydney Australia by Tesla Tom of Ludicrous Feed in March 2023 | Handling, ride quality and comfort suspension upgrade evaluation
2023 TESLA MODEL Y PERFORMANCE FIRST DRIVE AUSTRALIA and walkaround
Check out Roland's YouTube channel Zapped:
https://www.youtube.com/@ZappedAU/featured
Tesla Model Y Performance 0-100 Tested in Sydney Australia. Does it live up to the hype?
=====
00:00 Introduction
01:29 Walkaround of exterior
01:59 Lookaround of interior
02:54 Boot
03:24 Universal Mobile Connector
05:37 Wheels
07:18 Performance pedals
08:09 Ride quality test drive
13:16 Acceleration
14:47 Tom has a drive!
19:12 Rear view
20:35 Summary
=====
SUPPORT LUDICROUS FEED
Earn credits using this link and redeem for Tesla merchandise: https://www.tesla.com/en_AU/referral/thomas7208
Become a Channel Member to access exclusive perks!
https://www.youtube.com/channel/UC2TWeqcaGYMobKoHiMtQNHQ/join
PayPal: @teslatom or https://paypal.me/teslatom
=====
EXCLUSIVE LUDICROUS FEED OFFERS
Official Ludicrous Merch Store
https://shop.spreadshirt.com.au/ludicrousfeed/
Driva EV Loan Specialists
https://pages.driva.com.au/p/ev-loan?utm_source=youtube&utm_medium=referral&utm_campaign=ludicrous-feed&category=referral
Jowua Accessories | Code TESLATOM5 5% OFF sitewide
https://www.jowua-life.com/
EVSE Australia | Code TESLATOM 5% OFF sitewide
evee Tesla Car Sharing | Code TESLATOM $30 OFF 1st rental
https://evee.com.au/teslatom
Otrifowd Sunshades for Tesla Model 3/Y | Code TESLATOM 10% OFF
https://otrifowd.com/pages/fullshade
Hansshow Accessories & Modifications | Code TESLATOM 15% OFF sitewide
https://www.hautopart.com/
Power has never been this easy with #ecoflow portable batteries:
https://au.ecoflow.com/?aff=62
Powershop
Get $$$ off your energy bills by switching to Powershop using my unique link: https://secure.powershop.com.au/r/thomasg-meuyz2P?p=981
My account number: 830426943
Elusso Electric Car Rewards Club
https://elusso.au/?via=tom
=====
Australia Model 3/Y Historical Pricing Database
https://docs.google.com/spreadsheets/d/13hfTYtf7tHyBaa4E3tWM_uVuVK-a365NGznPgB_JG5E/edit?usp=sharing
=====
ABOUT LUDICROUS FEED
Ludicrous Feed demonstrates the benefits of Tesla and electric vehicle ownership coupled with renewable energy household products from an Australian perspective. Our family owns a Model S and Model 3 while our Tesla PowerWall 2 battery and solar panels help to reduce our reliance on grid electricity. This YouTube channel aims to encourage others to look at an electric vehicle for their next purchase as well as investing in renewable energy technology such as solar panels and battery storage for their home.
=====
CONTACT LUDICROUS FEED
Website https://www.ludicrousfeed.com/
Twitter https://twitter.com/LudicrousFeed
Instagram @ludicrous_feed
Facebook @ludicrousfeed
LinkedIn www.linkedin.com/in/ludicrousfeed98
Podcast https://ludicrousfeed.buzzsprout.com/
Email tom@ludicrousfeed.com