Video by Electric Car Australia via YouTube
Go to Source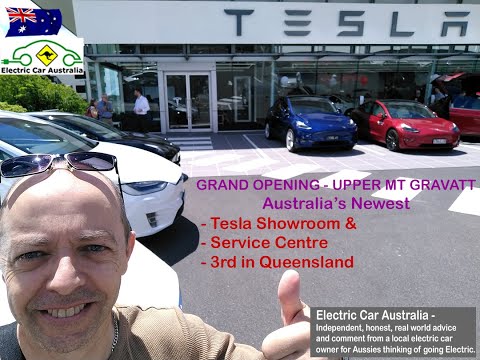 Welcome to another Electric car Australia video, this one attending the recent Grand Opening of the new Tesla Centre at 1922 Logan Rd, Upper Mount Gravatt Queensland.
Come on a tour of the new facility, see some cool Tesla vehicles, including the new Tesla model Y and hear the opening speech from Broadie the Tesla Sales Lead. I also also run into Arran Blomfield, the new Chairman of the Qld branch of the Tesla Owners Club Australia (TOCA) for a chat.
If you like the video and want to help me make heaps more, please consider flicking me a few dollars via PayPal or Patreon https://bit.ly/supportElecCarAu-paypal or https://www.patreon.com/ElectricCarAustralia
Follow Us on the Socials:
Twitter: Electric Car Australia | https://bit.ly/ElecCarAu-twitter
Instagram: Electric Car Advice Australia | https://bit.ly/ElecCarAu-instagram
Facebook: Electric Car & Vehicle Advice Australia | https://bit.ly/ElecCarAu-facebook
FREE & EASY way to Support the Channel, Subscribe and hit the notification bell: https://bit.ly/subscribetoElecCarAust
00:00 Intro
00:34 Tesla carpark, showroom & service entrance
02:20 Grand Opening speech from Broadie, Tesla Sales Leader
04:23 Tesla Model X charging with a Gen 3 Tesla Charger
04:55 Tesla Model Y in the Showroom – beautiful
06:18 Interview with Arran Blomfield, President of Qld TOCA
09:40 Service reception, workshop and Model 3 sub frame
10:26 Wheel and tyre stock in service centre
10:50 Model 3 up on the hoist – look underneath
11:59 Model 3 under the bonnet – with the frunk or froot removed
12:35 Tesla battery pack – used for display & training
13:10 Wrap up of the video and thanks to Patreon and Paypal supporters of the Electric car Australia channel
Other EV Videos on the Channel
Is BYD Atto 3 the BEST VALUE EV In Australia? In-depth Interview with a Happy BYD Owner OR IS HE?
EV Model 70% Cheaper Fuel v Petrol | Fully Loaded EV Road Trip & Camping | Electric Car Australia
Do Electric Cars need Servicing? Finding EV Servicing Mechanics & MG ZS EV Service Intervals & Cost
Another Budget EV for Australia? | Price & Ordering BYD Atto 3 | Comparing MG ZS EV & Kona Electric
Charging your EV on a ROAD TRIP | How to Fast / Rapid Charge in Australia | Electric Car Australia
Charge your Electric Car at Home from a Regular PowerPoint – Convenient, Cheap & SUPER Easy: https://www.youtube.com/watch?v=11KSuDHFnDM
Parts of an Electric Car you have NEVER Seen Before – Sneek Peek under the Australian Model MG ZS EV: https://www.youtube.com/watch?v=0AqFpzJV5tQ
Charge your Electric Car at Home from a Regular PowerPoint – Convenient, Cheap & SUPER Easy: https://www.youtube.com/watch?v=11KSuDHFnDM
Parts of an Electric Car you have NEVER Seen Before – Sneek Peek under the Australian Model MG ZS EV: https://www.youtube.com/watch?v=0AqFpzJV5tQ
How to Power Your House from your Electric Car – The EV DIY Vehicle to Load Solution to keep the Lights on in an EMERGENCY: https://www.youtube.com/watch?v=kJTBnLXSNes
Comparing the Technical Stats of the Electric MG ZS EV with the Petrol (Dino juice guzzler) MG ZS – Surprising Results!: https://www.youtube.com/watch?v=xlGbZe8hMsg
Australian Owners Real Life Review of the MG ZS EV – Australia's Cheapest & Best value Electric Car: https://www.youtube.com/watch?v=erY8rqoCTZU
Planning an Electric Car ROAD TRIP in Australia, Its EASY to plan those Charging Stops – https://youtu.be/npEWXAmJQ-o
How far can the MG ZS EV Electric Car go on a FULL CHARGE, 300 Km? – https://youtu.be/lIMQXWVz9qM
#Tesla #ModelY #ElectricCarAustralia