Video by The Late Brake Show via YouTube
Source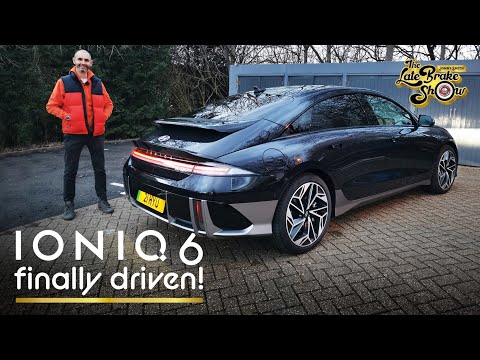 Driving the new Hyundai IONIQ 6 EV – full review + crash test. The eagerly awaited brother of the successful Ioniq 5 is here and Jonny Smith drove the first RHD example on British roads. This is a 340 mile range (400 in city use) safety award winning 4 door electric family saloon that builds upon the dominance of Korean EVs. Enough to tempt you away from your Ioniq 5 or BMW i4?
Thanks for stopping by The Late Brake Show. Subscribed yet?
Get early access to videos and blogs from Jonny by becoming one of our Patreon supporters: https://patreon.com/TheLateBrakeShow
The Ioniq 6 starts from £46,000 although this launch edition is £54,000. RWD and AWD versions are available, with 228ps and 325ps respectively. It's a more efficient, slippery car than the Ioniq 5, but the trade off is less boot space and cabin headroom.
This episode is proudly supported by Black Circles (https://www.blackcircles.com/), the UK's largest online tyre retailer providing a comprehensive click & fit service.
Enter your registration number in and you can get a whole selection of different types of grades of tyres suitable for your car.
***********
Merch shop: https://thelatebrakeshow.com/shop
******
Become a Patreon supporter: https://patreon.com/TheLateBrakeShow
******
Website: http://www.thelatebrakeshow.com
******
SUBSCRIBE for a broad-church of automotive appreciation spanning EV, classic, modified and future tech.
********
Filmed & Edited by: Phil Vaughan Pritchard https://www.philvfilms.com/
Thumbnail by: Matt Tarrant https://www.matttarantdesign.com
****************
Jonny Smith
Creative content maker, car presenter & car pervert for hire since '98
Website: http://www.carpervert.com
Instagram: http://www.instagram.com/jonnycarpervert
Twitter: http://www.twitter.com/carpervert
CHAPTERS
0:00 Intro
2:00 Driving impressions
3:10 Ioniq 5 DNA
3:25 Suspension & brake info
4:23 DIMENSIONS compared to Ioniq 5
4:58 Exterior design
5:35 Porsche rear
6:24 RANGE Battery and motor specs
7:08 KIA EV6 GT
7:22 N versions coming
7:36 Ride and suspension
8:30 CRASH SAFETY TESTING
9:15 Cabin design
11:00 Camera mirror options
13:48 Heat pump and battery preheat
14:22 PRICES
14:46 Accidental Barnfind!
15:05 Original Ioniq windknife
17:10 Rear cabin
20:03 Engine sounds
21:22 Frontal design
22:12 EFFICIENCY
23:21 Steering feel
24:03 Boot space
24:53 Frunk / froot
25:36 Weight
25:48 RIVALS
27:12 Heated rear seats and 3-pin PLUG
28:17 Wheel and tyre sizes
28:44 JONNY'S VERDICT
#ioniq6 #newhyundaiev #thelatebrakeshow #4k