Video by The Electric Viking via YouTube
Source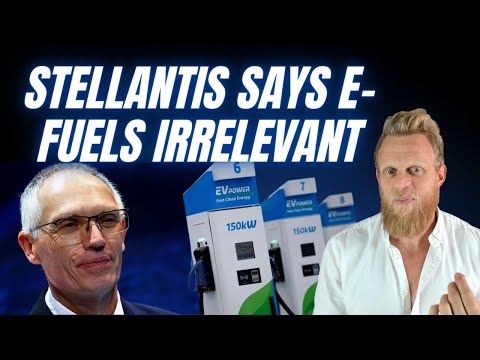 Even Carlos Tavares says E-Fuels cannot stop the electric revolution
👇👇 The Electric Viking store/merchandise 👇👇
https://shop.theelectricviking.com/
Size guide and other help for the store 👇
🔔 Subscribe and hit the notification bell! ► https://www.youtube.com/@electricviking?sub_confirmation=1
Join me on Patreon ► https://www.patreon.com/theelectricviking
Join as a member in The Electric Viking YouTube►
https://www.youtube.com/channel/UCjzi56cxvmEDwjo1Bd2Yxpg/join
Members-only videos (see videos before anyone else)►
👇👇 Please donate here for Shanna (Viking's wife) if you can 👇👇
https://gofund.me/ef6650d7
See what happened to Shanna:
Get a 10% discount on tickets to Fully Charged Live in 2023 (and meet me in person) using my discount code: EVFCLAU10
This code is for Australia only.
Buy ticket from here: https://tickets.lup.com.au/fully-charged-live
Our 10% discount code for London and San Diego will be released closer to the event dates.
The Electric Viking on other platforms:
Rumble ► https://rumble.com/c/TheElectricViking
Facebook page ► https://www.facebook.com/theelectricvikingfb
Facebook group ► https://www.facebook.com/groups/theevfbgroup/
Twitter ► https://twitter.com/theevking
Instagram ► https://www.instagram.com/theelectricvking/
Pinterest ► https://www.pinterest.com/theelectricviking/
LinkedIn ► https://www.linkedin.com/company/theelectricviking/
Telegram ► https://t.me/theelectricviking
TikTok ► https://tiktok.com/@theelectricviking
My Stake referral link ► https://tinyurl.com/hellostake
👇 See more about me 👇
👇 My Bali trip 👇
👇 Video about My Skateboard 👇
👇 Subscribe to my kids channel 👇
https://tinyurl.com/subscribetojackandcal
See more videos:
Are Tesla Semi REALLY breaking down?
BYD finally disclose if they plan to take on Tesla in North America
World's 3rd best selling EV, BYD's Qin, gets bigger battery & cheaper price
Tesla Model Y electric motor compared to VW ID electric motor
World's top 10 battery companies ranked by global sales
BYD aim to double Tesla worldwide sales & destroy VW in China
Europe's top 10 best selling cars in 2023 – Model Y sales up 167%
Vapourware or REAL? Tesla's electric van won't be what they're saying
Ford raises prices of the F150 Lightning for 5th time since release
Price & 30% range boost for Audi's NEW Q8 E-Tron electric SUV
#carlos #efuel #electricrevolution
This channel may use some copyrighted materials without specific authorization of the owner; but content used here falls under the "Fair Use" Copyright Disclaimer under Section 107 of the Copyright Act 1976.
Allowance is made for "fair use" for purposes such as criticism, comment, news reporting, teaching, scholarship, and research. Fair use is a use permitted by copyright statute that might otherwise be infringing. Non-profit, educational or personal use tips the balance in favor of fair use.
Contact us for any copyright issues. If you want a credit of any footage we are using, please let us know.
Website: https://theelectricviking.com/contact/
Email: info@theelectricviking.com / theelectricviking@gmail.com