Video by Go Green Autos via YouTube
Source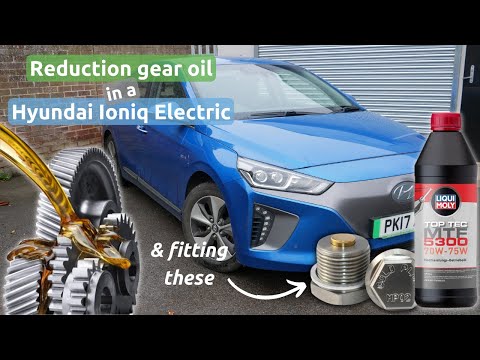 In this video, I change the reduction gear oil in our 2017 Hyundai Ioniq Electric 28kWh Electric at 100,290 miles. This is the second gear oil change, but this time I'm fitting magnetic sump plugs.
The Hyundai oil spec is 70W API GL-4 manual gear oil. I'm using Liqui Moly MTF 70W-75W see https://www.liqui-moly.com/en/gb/top-tec-mtf-5300-70w-75w-p004824.html#21359
The drain and fill plugs are M18x1.5mm. I used Toyota 90341-18057 which costs around £19.25 each (expensive!!) from Toyota, but they're much cheaper online. The washers are M18x24mm (18mm inner and 24mm outer diameter). I used Toyota 90430-18008 at £1.90 each, which again is ridiculously expensive! You can buy both these plugs and washers on eBay, Amazon or the web for much cheaper prices.
To look at the back catalogue of EV videos on this channel, see https://www.youtube.com/c/GoGreenAutos/videos
Why not follow Go Green Autos on Facebook at https://www.facebook.com/GoGreenAutos ?
For EVs for sale, see https://www.gogreenautos.co.uk/for-sale
#gogreenautos #evlearning #hyundaiioniq #hyundai #hyundaiev #usedevs #electricvehicles #electriccar #electriccars #gogreenautosuk