Video by The Late Brake Show via YouTube
Source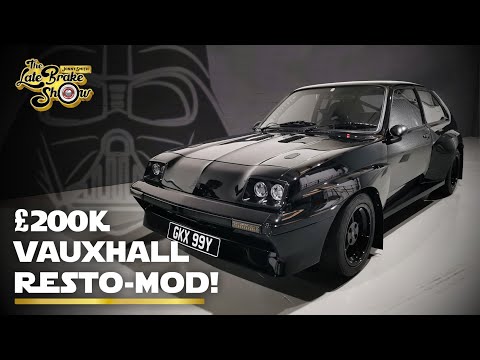 If Darth Vader built a Resto-mod project car – the RetroPower ultimate RWD Vauxhall. Taking a classic car and restomodding it to suit your unique taste is nothing new, but in the case of this anonymous customer of Retro Power ( https://retropower.co.uk/2020/10/19/project-vader-vauxhall-chevette-hsreplica/ ) they desired to commission probably the best made, most expensive Vauxhall Chevette in existence.
Thanks for stopping by The Late Brake Show. Subscribed yet?
The only problem was the weather on the day Jonny Smith drove the 300bhp naturally aspirated 2.3 'red top' with sequential Quaife gearbox; the rain, wind and fog were biblical. See how wide Jonny's eyes go when out on the Welsh hill roads, trying to keep the flawless black 'Vette on the tarmac and away from ditches.
For early views on videos and blogs from Jonny, why not join our Patreon gang? https://patreon.com/TheLateBrakeShow
Free-use intro music: https://freesound.org/people/humanoide9000/sounds/569047/
***********
Merch shop: https://thelatebrakeshow.com/shop
******
Become a Patreon supporter: https://patreon.com/TheLateBrakeShow
******
Website: http://www.thelatebrakeshow.com
******
SUBSCRIBE for a broad-church of automotive appreciation spanning EV, classic, modified and future tech.
********
Filmed and edited by: Phil Vaughan Pritchard https://www.philvfilms.com/
Thumbnail by: Matt Tarrant https://www.matttarantdesign.com
if darth vader built a resto-mod project – the retro power ultimate rwd vauxhall drift car
****************
Jonny Smith
Creative content maker, car presenter & car pervert for hire since '98
Website: http://www.carpervert.com
Instagram: http://www.instagram.com/jonnycarpervert
Twitter: http://www.twitter.com/carpervert
CHAPTERS
0:00 Intro
0:38 Meet Vader
1:52 Meet Retro Power Cal
2:20 Reason for the build
3:14 Inspired by…
4:37 Extra wide body kit
5:14 How it started
5:40 Axle and suspension
6:24 Vader colour
7:13 Wheels
7:21 DRIVING
9:23 Embarrassing
9:45 ENGINE
10:38 C20XE specs
13:25 Hard launch
15:56 INTERIOR details
18:26 Billet bits everywhere
20:30 Paint and body
22:15 DONUTS
23:48 Verdict
25:30 START UP
#restomod #modifiedclassiccar #4k #thelatebrakeshow