Video by The Electric Viking via YouTube
Source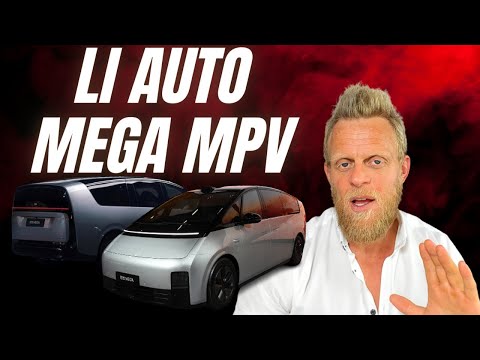 Li Auto Mega MPV has 750km range & charges in 12 minutes with CATL battery
👇👇 Buy something and support The Electric Viking Store 👇👇
https://shop.theelectricviking.com/
Size guide and other help for the store 👇
🔔 Subscribe and hit the notification bell! ► https://www.youtube.com/@electricviking?sub_confirmation=1
Join me on Patreon ► https://www.patreon.com/theelectricviking
Join as a member in The Electric Viking YouTube►
https://www.youtube.com/channel/UCjzi56cxvmEDwjo1Bd2Yxpg/join
Members-only videos (see videos before anyone else)►
👇👇 A great YouTube channel for toddlers and young children: 👇👇
https://theelectricviking.com/storytimesongyoutube
👇 Please donate here for Shanna (Viking's wife) if you can 👇
https://gofund.me/ef6650d7
See what happened to Shanna:
The Electric Viking on other platforms:
Rumble ► https://rumble.com/c/TheElectricViking
Facebook page ► https://www.facebook.com/theelectricvikingfb
Facebook group ► https://www.facebook.com/groups/theevfbgroup/
Twitter ► https://twitter.com/theevking
Instagram ► https://www.instagram.com/theelectricvking/
Pinterest ► https://www.pinterest.com/theelectricviking/
Telegram ► https://t.me/theelectricviking
TikTok ► https://tiktok.com/@theelectricviking
👇 See more about me 👇
👇 My Bali trip 👇
👇 Video about My Skateboard 👇
👇 Subscribe to my kids channel 👇
https://tinyurl.com/subscribetojackandcal
See more videos about Li Auto:
China's Auto Market: BYD shatters records, Li Auto and GAC Aion dominate Nio
Li Auto FURIOUS at VW for ridiculing dinosaur tech hybrids
The 3 Chinese EV unicorns compared; NIO, Li Auto & Xpeng
The Chinese EV startup that beat NIO, Xpeng & Li Auto in 2021
Chinese EV sales hit new records in December: Xpeng FIREs!
Xpeng revenue up 187% – but here's what nobody is talking about…
NEW Xpeng G9 global ELECTRIC SUV with INSANE tech
Xpeng reveal incredible NEW 480kW chargers & 800V platform
China EV wars: The NEW Weltmeister E5 plans to take on the Xpeng P5
Xpeng SMASHES sales records – sales up 300% vs 2020
I INVESTED: Xpeng P5 pre-orders + NEXT LEVEL autonomous driving
The NEW Xpeng P5 EV is a massive GAME CHANGER
Xpeng electric car sales nearly triple – sign of big things to come!
Xpeng reveals new 'Tesla Killer' P5 sedan to destroy Tesla Model 3 (LOL!)
China EV war: Tesla demand fuels 'home run' quarter as NIO, Xpeng step up rivalry with five-fold surge in deliveries | South China Morning Post
BYD vs Tesla vs Xpeng vs NIO vs Li Auto – stock comparison
Xpeng company outlook 2021: Quadrupled EV Sales In April, big things are coming
BYD crushing it in China – outdoes Nio, Xpeng & Li Auto In April EV Deliveries
Tesla, Xpeng, BYD & NIO post insane sales in May 2022
Xpeng sales Up 483% In May – my prediction for 2022
Nio and Xpeng sales skyrocketing (I was correct)
#liauto #liautomega #mpv #chargers #catl #batteries
👇Reference to the news/charts & videos used in this video:
Li Auto's all-electric Mega MPV starts presale at Guangzhou Auto Show
Li Auto officially unveils its 1st BEV Li Mega and starts pre-sales
This channel may use some copyrighted materials without specific authorization of the owner; but content used here falls under the "Fair Use" Copyright Disclaimer under Section 107 of the Copyright Act 1976.
Allowance is made for "fair use" for purposes such as criticism, comment, news reporting, teaching, scholarship, and research. Fair use is a use permitted by copyright statute that might otherwise be infringing. Non-profit, educational or personal use tips the balance in favor of fair use.
Contact us for any copyright issues. If you want a credit of any footage we are using, please let us know.
Website: https://theelectricviking.com/contact/
Email: contact@theelectricviking.com