Video by Ludicrous Feed via YouTube
Source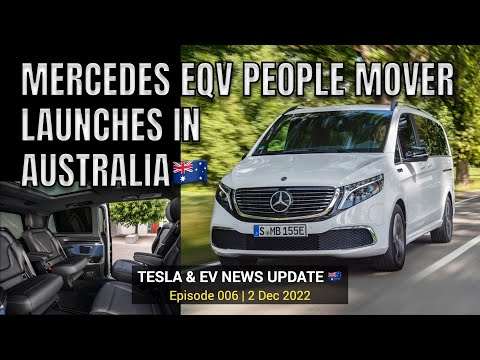 In this episode: Mercedes-Benz launches luxury EQV in Australia, Mitsubishi iMiev spotted for sale, Ohmie Go car sharing, XPeng and BYD news, electric Corvette concepts, Rivian news, Lordstown Endurance EVs, Vauxhall EVs, Tesla sentry mode updates and other news, Ford Mach E news, Daimler electric trucks, NIO self driving tech news and more!
MERCEDES ELECTRIC EQV PEOPLE MOVER LAUNCHES IN AUSTRALIA Ep 6 1 Dec 22
Thank you to Riz from Carloop!
=====
Articles mentioned in this video:
Mercedes EQV
Mercedes-Benz launches its luxury electric EQV people mover in Australia
Mitsubishi i-MieV
Australia's cheapest electric vehicle is a 10-year-old Mitsubishi
Ohmie Go Car sharing
Sydney corporate park offers two Tesla Model 3s for tenants to share
XPeng news
https://cnevpost.com/2022/11/30/xpeng-year-end-purchase-subsidy/
BYD orders in Mexico
https://cnevpost.com/2022/11/30/byd-to-sell-evs-in-mexico-next-year/
Corvette EV
Sacrilege? Electric Corvette 4-door and SUV variants are racing to market in 2025
Rivian news
Rivian (RIVN) CEO discusses the road to profitability, supply chains, R2 platform, and more
Lordstown pickup EV
First batch of Lordstown Endurance EV pickups leaving Ohio Foxconn plant for delivery
Vauxhall EVs
Vauxhall unveils all-new Astra Electric and Astra Sports Tourer Electric  
Tesla Sentry Mode update
Tesla Sentry Mode gets refined to better detect vehicle break-ins
Ford makes 150000 Mach-Es
Tesla Wall Connector news
Daimler electric trucks
Daimler begins deliveries of all-electric Freightliner eCascadia semi
BYD Sodium Ion Seagull
https://cnevpost.com/2022/11/30/byd-model-with-sodium-ion-batteries-q2-2023-report/
Mercedes eSprinter
Electric vanlife coming? 2024 Mercedes eSprinter impresses in 300-mile range, efficiency tests
Tesla Caltrans order
Tesla screen update
NIO self driving tech
=====
00:00 Introduction
00:35 Mercedes EQV
05:18 Mitsubishi i-MieV
06:30 Ohmie Go
07:45 XPeng
09:50 BYD in Mexico
10:49 Electric Corvette
11:59 Rivian news
13:09 Lordstown pickup EV
14:25 Vauxhall EVs
15:59 Tesla Sentry mode updates
17:17 Ford makes 150000th Mach E
18:30 Tesla Wall Connector news
20:02 Daimler electric trucks
21:07 BYD Seagull
23:43 Mercedes eSprinter
24:42 Tesla Caltrans order
25:28 Tesla S/X Rear screen
26:21 NIO Self Driving Tech
=====
SUPPORT LUDICROUS FEED
Become a Channel Member to access exclusive perks!
https://www.youtube.com/channel/UC2TWeqcaGYMobKoHiMtQNHQ/join
PayPal: @teslatom or https://paypal.me/teslatom
=====
EXCLUSIVE LUDICROUS FEED OFFERS
Official Ludicrous Merch Store
https://shop.spreadshirt.com.au/ludicrousfeed/
Jowua Accessories | Code TESLATOM5 5% OFF sitewide
https://www.jowua-life.com/
EVSE Australia | Code TESLATOM 5% OFF sitewide
Powershop
Get $$$ off your energy bills by switching to Powershop using my unique link: https://secure.powershop.com.au/r/thomasg-meuyz2P?p=981
My account number: 830426943
Hansshow Accessories & Modifications | Code TESLATOM 15% OFF sitewide
https://www.hautopart.com/
evee Tesla Car Sharing | Code TESLATOM $30 OFF 1st rental
https://evee.com.au/teslatom
Jay Leno's Garage Australia | Code TESLATOM 15% OFF sitewide
https://jaylenosgarage.com.au/
Definitive Car Detailing | Mention Code TESLATOM for free wheel detailing
Hills Wood Interior | Code 4J68YD $30 OFF
https://hillsmade.com/en-au/collections
=====
Australia Model 3/Y Historical Pricing Database
https://docs.google.com/spreadsheets/d/13hfTYtf7tHyBaa4E3tWM_uVuVK-a365NGznPgB_JG5E/edit?usp=sharing
=====
ABOUT LUDICROUS FEED
Ludicrous Feed demonstrates the benefits of Tesla and electric vehicle ownership coupled with renewable energy household products from an Australian perspective. Our family owns a Model S and Model 3 while our Tesla PowerWall 2 battery and solar panels help to reduce our reliance on grid electricity. This YouTube channel aims to encourage others to look at an electric vehicle for their next purchase as well as investing in renewable energy technology such as solar panels and battery storage for their home.
=====
CONTACT LUDICROUS FEED
Website https://www.ludicrousfeed.com/
Twitter https://twitter.com/LudicrousFeed
Instagram @ludicrous_feed
Facebook @ludicrousfeed
LinkedIn www.linkedin.com/in/ludicrousfeed98
Podcast https://ludicrousfeed.buzzsprout.com/
Email tom@ludicrousfeed.com