Video by The Late Brake Show via YouTube
Source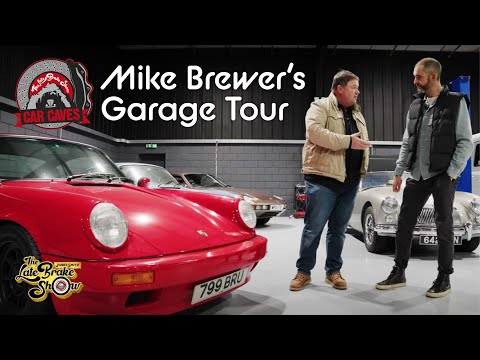 What does Wheeler Dealer Mike Brewer's personal Car Cave look like? Private Garage Workshop Tour. Having already taken the decrepit brown easy chairs to interview Edd China and Ant Anstead, Jonny Smith was invited to see Mike Brewer's personal car collection and stealth garage, before sitting down to talk to him (see the other Idol Chat videos).
Thanks for stopping by The Late Brake Show. Why not become a Patreon of the channel for early access to episodes, as well as Jonny's blogs? https://patreon.com/TheLateBrakeShow
Known for being the frontman of TV show Wheeler Dealers since it began almost 20 years ago, Mike had already been the presenter of Driven, Deals on Wheels and numerous other shows. But what does the veteran car dealer keep in his own garage?
***********
Merch shop: https://thelatebrakeshow.com/shop
******
Become a Patreon supporter: https://patreon.com/TheLateBrakeShow
******
Website: http://www.thelatebrakeshow.com
******
SUBSCRIBE for a broad-church of automotive appreciation spanning EV, classic, modified and future tech.
********
Filmed and edited by: Phil Vaughn Pritchard https://www.philvfilms.com/
Thumbnail by: Matt Tarrant https://www.matttarantdesign.com
****************
Jonny Smith
Creative car content maker, presenter & car pervert for hire since '98
Website: http://www.carpervert.com
Instagram: http://www.instagram.com/jonnycarpervert
Twitter: http://www.twitter.com/carpervert
CHAPTERS
0:00 Intro
1:27 Ford Ranger Raptor
2:14 Landrover Defender
2:45 The workshop
4:05 1982 Porsche SC resto-mod
7:25 Porsche 912E
9:48 Porsche 928
12:44 1959 MGA
16:51 Mk1 Ford Transit
20:05 Landrover 110 Defender
21:55 Alexa abuse
22:32 1964 Mini Cooper S
25:40 Porsche Taycan
29:28 What else does he own?
30:30 Honda Motocompo
#mikebrewer #wheelerdealers #carcollection #thelatebrakeshow