Video by Automotive Territory: Trending News & Car Reviews via YouTube
Go to Source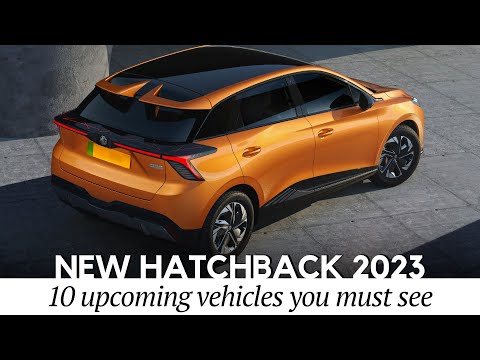 City dwellers love them for practicality and fuel economy, young hooligans are crazy about their mean engines and popping exhausts, while budget conscious buyers prefer them over crossovers for the chance to save a couple of grand of hard-earned funds. You guessed it, we are talking about hatchbacks, the pocket rockets on busy streets and crowded highways. In today's video we shall go over the newest 2023 models within this class; the newcomers are overwhelmingly hot and loaded, so plenty of reasons to be excited.
Other #AutomotiveTerritory videos that you should see:
Best performance cars in a sedan body type: https://www.youtube.com/watch?v=2kpg4PsFdWY
Sporty SUV models arriving in 2023: https://www.youtube.com/watch?v=_kwQXeScrfU
List of all vehicles from this #AT_New_Cars video:
00:00 Introduction
00:46 Honda Civic Type R
hondanews.com/en-US/honda-automobiles/channels/honda-civic-type-r?selectedTabId=honda-civic-type-r-videos
The pinnacle representative of the 11th generation Civic is likely to remain one of the world's favorite hot hatches. The 2023 Type R wears new Michelin Pilot Sport 4S tires, has improved rear spoiler and diffuser, and surely the signature centrally positioned 3-pipes exhaust.
01:53 Volkswagen Golf R 20th Anniversary Edition
volkswagen-newsroom.com/en/press-releases/golf-r-20-years-anniversary-model-of-the-golf-r-now-available-to-order-7995
In addition to unique exterior tweaks, the 2023 Volkswagen Golf R 20th Anniversary Edition arrives to the US with an exclusive 6-speed manual gearbox, while in Europe, it offers an extra 13 horsepower.
02:55 Toyota GR Corolla
toyota.com/upcoming-vehicles/grcorolla
Toyota's Gazoo Racing team has cooperated with the master driver Akio Toyoda to finally establish itself as a hot hatch player. This sporty Corolla gets a low center of gravity, model-specific frame reinforcements, carbon fiber elements.
04:13 Ford Focus ST
media.ford.com/content/fordmedia/feu/en/news/2022/09/26/ford-takes-focus-st-driving-to-the-next-level-with-adjustable-tr.html
Albeit not being present on the home market, this hot hatch continues to deliver exhilarating emotions to the fans of blue oval in Europe. The following model year the Focus ST will get an agility-enhancing, factory-fit Track Pack available on the five-door models.
05:17 ABT RS3-R
abt-sportsline.de/special-editions/abt-rs3-r
ABT RS3-R gets a carbo fiber aero kit, a new ECU for its 2.5L 5-cyllinder, and an ABT-tweaked suspension system.
06:24 MG4 EV
mg.co.uk/new-cars/mg4-ev
2023 MG4 EV is the brand's first car to be built on the new modular scalable architecture that supports 800V charging and enables RWD or AWD powertrain configurations.
07:27 Abarth 695 Tributo 131 Rally
abarthcars.co.uk/abarth-695-tributo-131-rally
Abarth 695 Tributo 131 Rally is a 695-edition of the Abarth-tweaked Fiat 500 that honors the Abarth 131 Rally official race, that last took place 40 years ago.
08:37 Hyundai i30N Drive-N Limited Edition
hyundai.com/eu/models/i30-n/limited-edition.html
2023 Hyundai i30N Drive-N Limited Edition is set apart by white or black pearl paintwork, bronze and red highlights, plus 19inch forged alloy wheels with a dark-bronze finish.
09:34 Mercedes-AMG A45 S
group-media.mercedes-benz.com/marsMediaSite/en/instance/ko.xhtml?oid=54250486&relId=1001&resultInfoTypeId=173
Mercedes strongly believes that each of their products is perfect, therefore the 2023 facelift of the A-class introduces only barely noticeable changes. For the flagship hot hatch model this entails a limited run of a Street Style Edition painted in Mountain Grey Mango.
10:36 Peugeot E-308 and e-208
media.stellantis.com/em-en/peugeot/press/peugeot-e-308-and-e-308-sw-100-electric-versions-for-both-308-models
and
media.stellantis.com/em-en/peugeot/press/new-100-electric-peugeot-e-208-more-powerful-more-efficient-and-up-to-400-km-in-range
The beautiful 308 is trying on the new gen electric powertrain from Stellantis and arguably becomes the best-looking electric hatch of the C Segment. The 2023 Peugeot e308 is powered by a 156-horsepower motor and a 51 kilowatt-hour battery.