Video by The Electric Viking via YouTube
Source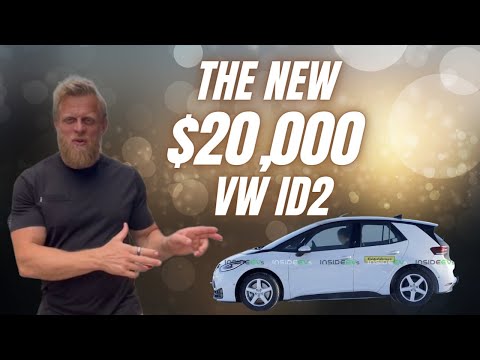 Why the NEW Volkswagen ID2 will be the best VW electric car
👇👇 The Electric Viking store/merchandise 👇👇
https://shop.theelectricviking.com/
Size guide and other help for the store 👇
👇 Video about My Skateboard 👇
🔔 Subscribe and hit the notification bell! ► https://www.youtube.com/@electricviking?sub_confirmation=1
Join me on Patreon ► https://www.patreon.com/theelectricviking
Join as a member in The Electric Viking YouTube►
https://www.youtube.com/channel/UCjzi56cxvmEDwjo1Bd2Yxpg/join
Members-only videos (see videos before anyone else)►
👇👇 Please donate here for Shanna (Viking's wife) if you can 👇👇
https://gofund.me/ef6650d7
See what happened to Shanna:
Get a 10% discount on tickets to Fully Charged Live in 2023 (and meet me in person) using my discount code: EVFCLAU10
This code is for Australia only.
Buy ticket from here: https://tickets.lup.com.au/fully-charged-live
Our 10% discount code for London and San Diego will be released closer to the event dates.
The Electric Viking on other platforms:
Rumble ► https://tinyurl.com/tevrumble
Facebook page ► https://tinyurl.com/theevfb
Facebook group ► https://tinyurl.com/theevfbgroup
Twitter ► https://tinyurl.com/theevtwitter
Instagram ► https://tinyurl.com/theevinstagram
Pinterest ► https://tinyurl.com/theevpinterest
LinkedIn ► https://tinyurl.com/theevlinkedIn
Telegram ► https://t.me/theelectricviking
TikTok ► https://tiktok.com/@theelectricviking
My Stake referral link ► https://tinyurl.com/hellostake
👇 See more about me 👇
👇 My Bali trip 👇
👇 Subscribe to my kids channel 👇
https://tinyurl.com/subscribetojackandcal
See more videos about Volkswagen:
Volkswagen ID.4 sets sales record in the US – but HUGE disruption begins
VW spokesperson explains why it will lose millions of sales by 2026
VW increases EV prices 3 times, forces reservation holders to pay more
VW hopes firing managers responsible fixes lack of vertical intergration
German analysts say VW & Mercedes have fallen behind on EVs
Volkswagen Zwickau Plant sets EV production record – VW celebrate
VW fires Diess, then cancels his NEW hyper-efficient EV factory
VW to kill off petrol/gas & diesel vehicles in Europe by 2033
Magna & Ford will build VW's pick-ups & SUVs in the US
VW's $1B China software joint venture is an act of desperation
VW says it's financially ready for electrification – the facts say otherwise
Volkswagen scrambling: NIO, BYD, & CATL are our competition
How VW plans to catch Tesla – says software is KING
Volkswagen Group's EV sales by brand & country Q1 2022
700km! VW announces range, charging & power boost for EVs
VW's battery partner: 'lithium batteries soon replaced by LFP'
Some VW EV buyers wait 1.5 yrs for delivery – is it worth it?
VW's GIGA-casting & automation plan to topple Tesla
I was wrong – BANKRUPTCY is virtually unavoidable for VW
VW's Tesla Model 3 competitor goes on sale for $20,000 USD!!!
VW says its EVs will be profitable soon – I don't believe it
VW's best kept secret – the $10,000 E10X with 300 km range
VW's 2030 EV plan for the United States is MENTAL
VW's new OTA EV updates are GAME CHANGING
Herbert Diess: VW can't compete with Tesla for years
VW CEO says legacy auto in BIG trouble in China
#vw #vwid2 #evs #evproductions
This channel may use some copyrighted materials without specific authorization of the owner; but content used here falls under the "Fair Use" Copyright Disclaimer under Section 107 of the Copyright Act 1976.
Allowance is made for "fair use" for purposes such as criticism, comment, news reporting, teaching, scholarship, and research. Fair use is a use permitted by copyright statute that might otherwise be infringing. Non-profit, educational or personal use tips the balance in favor of fair use.
Contact us for any copyright issues. If you want a credit of any footage we are using, please let us know.
Website: https://theelectricviking.com/contact/
Email: info@theelectricviking.com / theelectricviking@gmail.com