Video by Auto Vision Electric – Everything EV Channel via YouTube
Source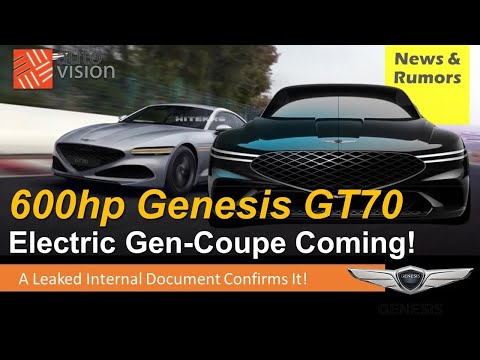 The much anticipated next Genesis coupe is finally coming!
Incredibly, internal documentation revealing Genesis' production plan that was presented to the investors in Korea was leaked just recently. And not surprisingly, every model that appears on the blueprint manifested exactly or is confirmed to be under development. These include the soon-to-be-released, the brand's first dedicated electric vehicle GV60, based on the hugely popular Hyundai IONIQ 5 and Kia EV6, as well as the BMW 7-series-fighting GV90 3-row SUV, which is also expected to be electric and share the platform with the upcoming IONIQ 7. This amazing discovery begs the question once again. The same question the loyal followers of the Genesis brand and the Hyundai Genesis Coupe fanatics from a generation ago, the same people that now have moved up in the income bracket and waiting eagerly for the successor to a Korean coupe that started it all. Is the much-talked-about Genesis GT70 coupe really coming? The long and the short of it is, yes, it's coming. Apparently according to the leaked document. Check out this feature on the upcoming Genesis GT70 Coupe for all the details!
0:00 Intro
0:21 Introduction
0:57 Genesis Coupe: The Beginning
3:59 Powerplant
4:55 Design History
7:02 Platform Sharing
7:26 Exterior and Interior
8:35 Performance
9:21 Price and Availability
9:44 Conclusion and Question
#NextGenesisSportsCar #NextGenesisElectricCar #NewGenesisElectricCar #GT70 #GenesisGT70 #GenesisCoupe
Thank you for tuning in! Your Like and Subscriptions will very much be appreciated!
Receive the fastest and the most accurate Korean Car News by visiting AutoVision's Korean Car News dedicated blog:
www.koreancarnews.com
Please check out our new Facebook page!
https://www.facebook.com/Autovision.Channel
Also, if you are a fan of Korean cars please join our Korean Car Fan Group!
facebook.com/groups/246723133301051
You can listen to all of the great background music featured on Avance Entertainment videos here:
Car & Music, What more can you ask for?
Music Credit:
26_A Finite Lifetime – Moon Craters
6_Contours – Brendon Moeller
ES_Day and Night – Yesable
Listen to the full track here:
Video, Image, and Content Source:
All Respective Manufacturers and Copyright Holders
Hyundai Motor Group
kolesa.ru
HITEKRO Youtube Channel: https://www.youtube.com/channel/UCbbKFHWyfjxLOXFLpHUjLUA
next genesis sports car, cars, hyundai genesis, genesis, hyundai, genesis g80, genesis gv80, review, g80, suv, car, 2021 genesis gv80, car review, genesis g70, 2021 genesis g80, gt, genesis suv, g70, genesis review, g90, genesis g80 2021, gv80, genesis g80 review, g80 review, 2021 genesis g80 review, cars and coffee, oil, honda, civic, toyota, trucks, luxury suv, luxury, genesis g90, gv80 genesis, 2020 genesis g90, genesis gv80 review, type r, genesis coupe, genesis g80 2020
new genesis electric car, hyundai, genesis, cars, hyundai genesis, car review, suv, genesis gv80, ev, electric, genesis g80, review, 2021 genesis gv80, genesis suv, genesis gv80 review, genesis review, car, gv80 genesis, luxury suv, concept car, full, g80, gv80, 2021 genesis gv80 review, gv80 review, g90, electric car, electric vehicle, genesis gv80 interior, 2021, essentia, concept, hyundai concept, future car, car of the future, all electric, electric concept car