Video by BenjaminNelson via YouTube
Source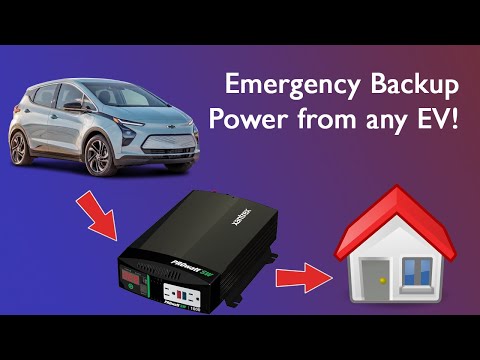 An electric vehicle is a great power source in an emergency situation. We'll show you step by step how to draw power out of it for your needs!
Please click SHOW MORE!
In this video, we show how to connect a power inverter to a Chevy Bolt EV and use it to get 1,000 watts to power a fridge, furnace, or other load in an emergency.
Chapters:
00:00 Introduction
1:11 Inverter
2:01 Circuit Breaker
3:16 Cabling
4:09 Anderson Disconnect
5:11 Building a Cable
11:04 Connecting to Inverter
12:14 12V System Overview
16:05 Wiring the Breaker
18:48 Connecting the Positive
20:37 Connecting the Negative
24:45 Chassis Ground
26:03 12V Testing
27:31 Connect Inverter
28:22 Inverter Load Testing
31:18 How/What to Power?
32:03 Keeping it Running
32:55 Conclusion, End Car, and Links
In this video, I used a 2,000 watt inverter because it's one that I already owned and used for other projects. For many electric vehicles, the maximum continuous power they can provide through the 12V system may be around 1,200 watts. Because of that, a 1,000 watt inverter may be the best choice for an inverter DEDICATED to an electric car setup
Consult your inverter manual for detailed information on what size cable to use, cable length, and voltage drop. In general, SHORT and THICK cables are best for the high current from the 12V system.
The 2023 Bolt EV specifically has a 130A DC/DC converter. That's approximately 1600 watts, but you want to keep in mind that's the MAXIMUM and that the car itself needs some power to run electronics, the cooling pump, etc. Drawing 1,000 watts is about 80 amps, or a little over 60% of the max rating on the DC/DC converter. At that power draw, the converter should barely even get warm.
Tools and Materials:
1,000 Watt Xantrex Inverter: https://amzn.to/3JeoSkM
175A Anderson Connectors: https://amzn.to/3WAtYLq
Bussman 100A Breaker: https://amzn.to/3HxzY3m
Hydraulic Crimper: https://amzn.to/3HwPFHQ
Welding Cable: https://amzn.to/3RcXvd2
Lugs: https://amzn.to/3WDub04
————————-
If you like what I do you can support me at:
https://www.patreon.com/300MPG
By shopping at Amazon anyways: www.amazon.com/shop/benjaminnelson
For more Information, visit:
https://300mpg.org
————————–
Most Popular Playlists:
Build Your Own Electric Car: https://bit.ly/2zMufmN
Build Your Own Electric Motorcycle: https://bit.ly/2AT7eOF
Solar Garage: https://bit.ly/2KgQpS5
——————————–
Contact Ben Nelson:
Please just leave a comment for me at: https://300mpg.org/about/
and I'll get right back to you.
———————————
Music by:
"Local Forecast" Kevin MacLeod (incompetech.com)
Licensed under Creative Commons: By Attribution 3.0 License
http://creativecommons.org/licenses/by/3.0/
———————————-
As an Amazon Associate I earn from qualifying purchases. Amazon links help support this these videos.