Video by EV Review Ireland via YouTube
Go to Source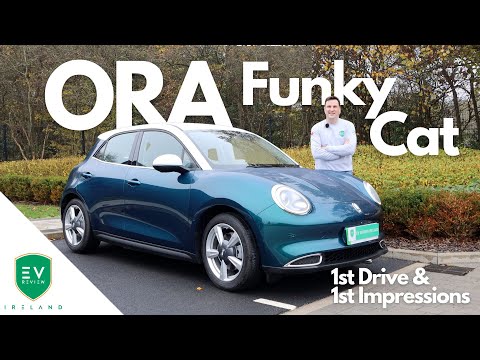 ORA Funky Cat – Full Review and Drive (Sneak peek at bigger battery specs too)
Derek Reilly from EV Review Ireland has a look around the ORA Funky Cat and takes it out for a drive.
This video is in partnership with www.Nevo.ie
Nevo is Ireland's new dedicated EV website where you can book a test drive of the ORA Funky Cat
Please subscribe to my channel, hit the like button and leave a comment. I review all types of electric vehicles and remember, if you think an EV is for you, leave it to me and I'll review. Thanks for watching.
Chapters
0:00 Intro
0:39 Who are ORA?
1:10 Styling
2:06 ORA Dealers UK and Ireland
2:23 Front and Side Design
4:11 Charging
6:14 Rear Design and Boot
7:54 Interior Front
14:05 Space in the rear
15:45 Video in Partnership with Nevo.ie
16:23 Out for a Drive
22:26 UK 1st Edition Trim Specs
23:11 Ireland 300 Pro and 400 Pro+ Trim Specs
23:45 Outro
Support me via the following sites
Patreon monthly support with 3 different levels- https://www.patreon.com/evreviewireland
PayPal Once Off Tip – https://paypal.me/derekreillyireland
Like this video? – Send a "Super Thanks" via YouTube
Derek and EV Review Ireland are also on Twitter
Tweets by EVReviewIreland
Tweets by derekreilly
Derek's Instagram – https://www.instagram.com/reilly.derek
Derek's LinkedIn – https://www.linkedin.com/in/derekreilly/
EV Review Ireland LinkedIn Page – https://www.linkedin.com/company/ev-review-ireland
#ora #funkycat #orafunkycat